The official website of XI Class Admission is xiclassadmission.gov.bd. The xiclassadmission.com.bd is an unofficial website. Information about HSC Admission 2023 can be found here. The admission process of all government and private colleges in Bangladesh will be completed through the XI Class Admission system. Alim Admission activities in madrasas under Bangladesh Madrasa Education Board will also be completed through this process centrally.
XI Class Admission System
The XI Class Admission 2022–2023 of all government and private colleges will be completed in a few steps. Admission applications will be accepted in three phases. The merit list will be published at the end of each step of the application process. Students on the merit list have to confirm admission within the stipulated time frame. Three merit lists will be published for the three-step application. There are two migration results that will be published. After that, the final merit list will be published. Based on the final merit list, the XI Class Admission activities will start after the completion of all the steps. The student has to complete admission to the nominated college within the stipulated time.
XI Class Admission 2023
The HSC Admission 2022–2023 activities will be completed per the following time frame. However, the Authority has the right to change or reschedule any of the following event(s). This year's roadmap has been provided according to the previous year's.
| Title | Date |
| --- | --- |
| 1st Phase Application | 8 December 2022 to 15 December 2022 |
| 1st Phase Result | 31 December 2022 |
| 1st Phase Selection Confirmation | 1 January 2023 to 8 January 2023 |
| 2nd Phase Online Application | 9 January to 10 January 2023 |
| 1st Migration Result | 12 January 2023 |
| 2nd Phase Result | 12 January 2023 |
| 2nd Phase Selection Confirmation | 13 January to 14 January 2023 |
| 3rd Phase Online Application | 16 January 2023 |
| 2nd Migration Result | 18 January 2023 |
| 3rd Phase Result | 18 January 2023 |
| 3rd Phase Selection Confirmation | 19 January to 20 January 2023 |
| Admission | 22 February to 26 January 2023 |
| Class Start | 01 February 2023 |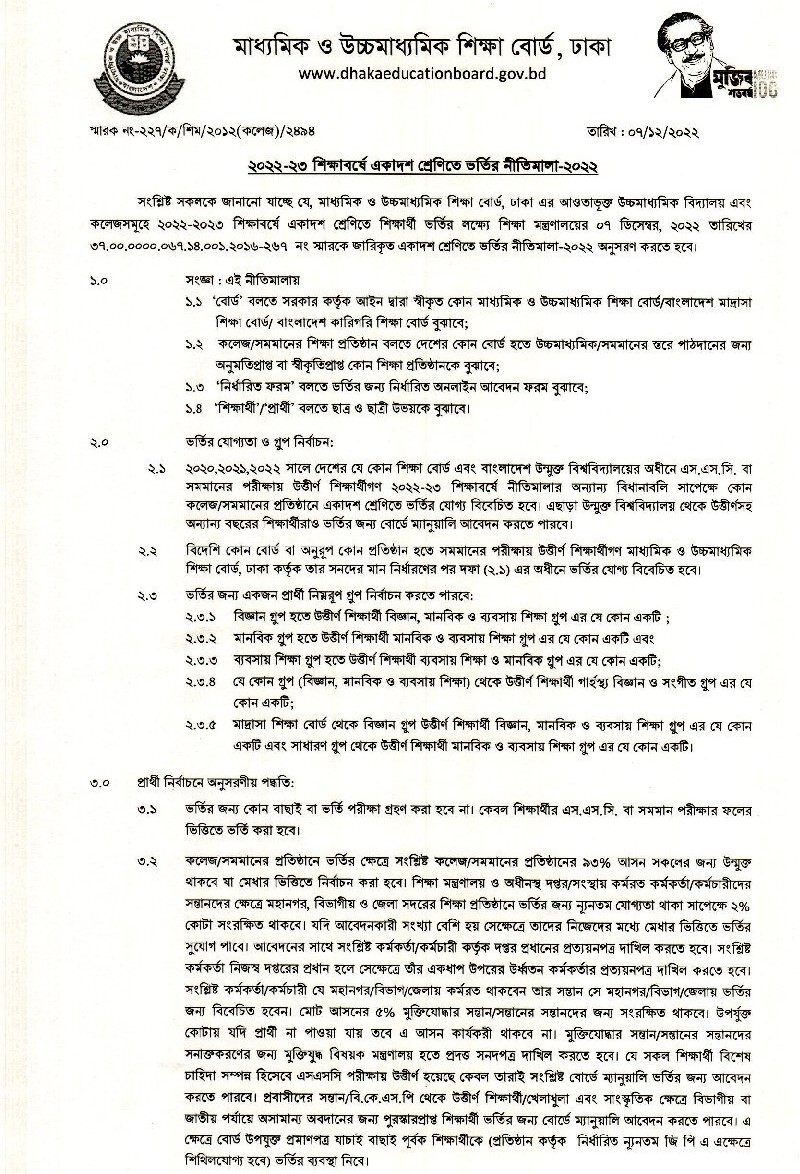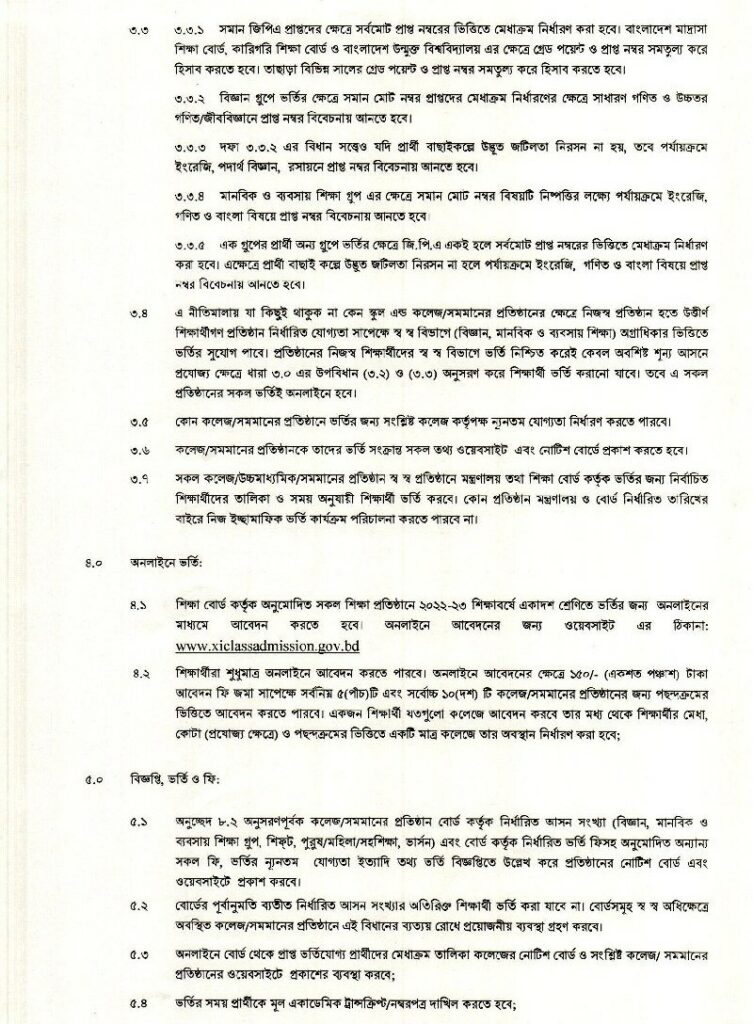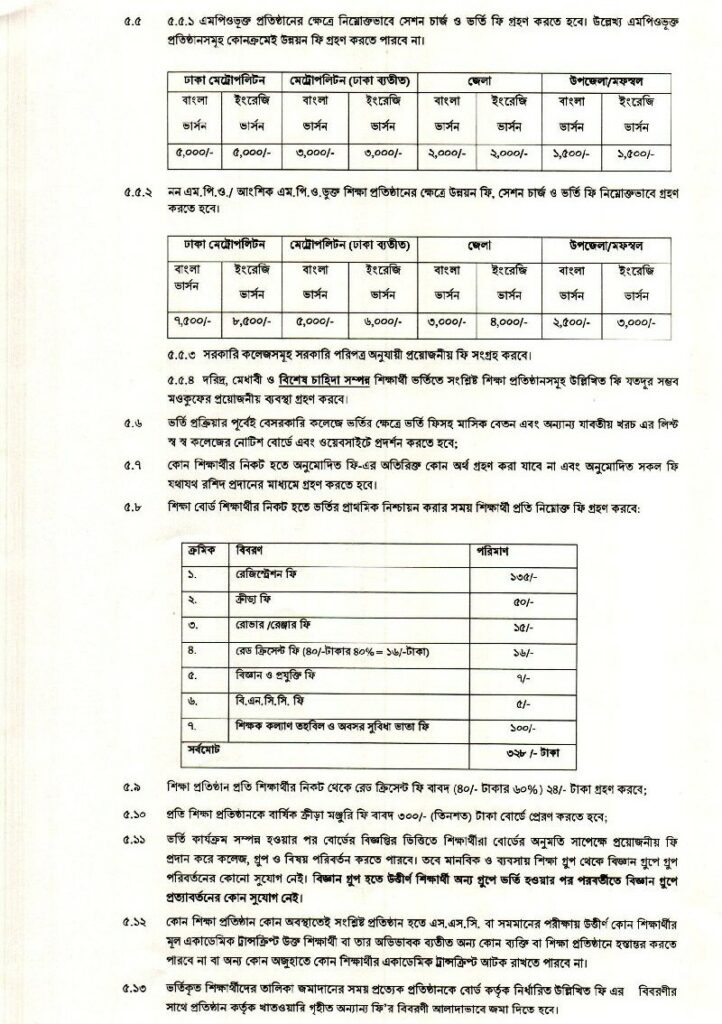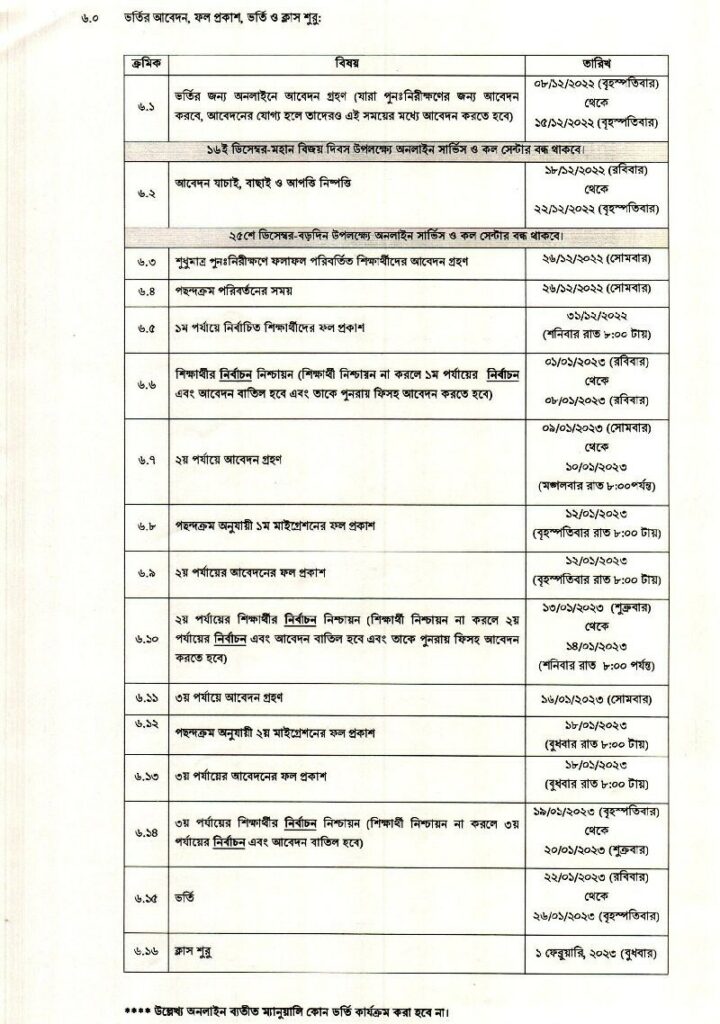 HSC Admission 2022-23
The admission circular for XI Class has been published. The HSC Admission 2023 activities of all colleges under all education boards, including Dhaka, Rajshahi, Cumilla, Jashore, Chattogram, Barishal, Sylhet, Dinajpur, and Mymensingh, will be completed centrally in an integrated system. College Admission 2022–23 will be completed based on the results of the SSC Exam 2022. No admission test will be taken for this. However, a few colleges are out of the process. They will admit students through admission tests in their own way. The colleges which will admit students through separate admission tests are:
Notre Dame College, Dhaka
Holy Cross College, Dhaka
St. Joseph Higher Secondary School
St. Gregory's High School & College
In addition, students will be admitted to government and non-government institutions under the Bangladesh Technical Education Board in different ways. Admission to Diploma in Engineering, HSC Vocational, HSC BMT, and Certificate courses will be completed through the btebadmission.gov.bd website. The admissions to be completed under the Technical Education Board are:
Diploma in Engineering
Diploma in Marine Engineering
Diploma in Textile Engineering
Diploma in Agriculture
Diploma in Fisheries
Diploma in Forestry
Diploma in Livestock
HSC-Voc (Vocational)
HSC-BMT (Business Management and Technology)
Certificate in Marine Trade